Perkinson Homes is in the business of making your dream home a reality. But not just the house itself, the space as a whole. While we have the home building aspect on lock, more pieces of the puzzle help create the bigger picture. We work with the most knowledgeable landscapers and designers to ensure the area surrounding your home is as fantastic as the home itself. One of these puzzle pieces is our friends over at CREATIVEscapes. Chris Johannsen, the founder, and owner of the business was kind enough to take time out of his day to talk with us about all the amazing things he's doing for his clients.
Can you briefly describe your professional background and why you started Creativescapes? Can you elaborate on all services you provide homeowners?
I graduated with my BFA from Virginia Commonwealth University, majoring in sculpture and minoring in crafts focused on metalsmithing. I've been in the outdoor design world for over 10 years, winning awards for my designs, such as the Hardscape Hero Award in 2016, 2017, and 2018. Before starting my own design business, I worked for two multi-million dollar firms where I was in charge of designing and building projects that ranged from $30,000-$1,500,000.
I started CREATIVEscapes because I saw a disconnect between the homeowner and the design process. People are looking for more custom designs and less cookie-cutter outdoor living spaces. CREATIVEscapes offers a complete 3D design experience for each homeowner, followed by a 3D fly-through video with snapshots that shows both day and night time versions. This gives the homeowner a completed vision of what to expect. At the end of the design process, the homeowner will be ready to talk with contractors and hand them a packet with all the information they need. This prevents any expensive and frustrating misunderstandings or confusion on the project. Our process allows homeowners to get multiple bids from contractors. Contractors are all bidding on the same project specifications, giving homeowners the ability to compare apples to apples when going through the bid process.
Can you talk about the value clients and vendors receive from utilizing your services prior to beginning a project? How far in advance should clients contact you?
Doing a design will actually save you money. It's easy to move an object one foot in one direction or another on a computer. However, it can be quite expensive after construction. The biggest consumer of patio space is furniture. We can place all your outdoor furniture to ensure your patio/deck will be large enough to accommodate it. We can also place people in the rendering to anticipate traffic flow and get a better sense of scale. Outdoor living space is a significant investment. Would you build a house without plans? NO! A designer should be the first person you call if you're looking to build a unique outdoor living space that is custom for your family and yard. This ensures a smooth and successful project from the beginning.
What trends do you see in outdoor spaces in the Richmond area?
I'm really starting to see more modern designs evolving in the Richmond area. Clients are asking for more crisp, clean lines mixed with various materials. It's really an exciting and fun time for outdoor living design in Richmond. I'm excited about the direction things are heading.
What is the most unique project you have worked on at CREATIVEscapes?
The most unique project CREATIVEscapes has worked on was a wedding venue, Avonlea Farms, in Mineral, Virginia. The client had a large piece of property and wanted to utilize it as a wedding venue. We helped lay out the whole property. Everything was planned around a lake found on the property. At the end of it, they had a 3D rendering of their vision to start showing customers. Since it was just an empty field, customers couldn't see their vision. Once they had the 3D design, customers were able to envision what it would look like. The venue was able to start booking weddings before then even finished building.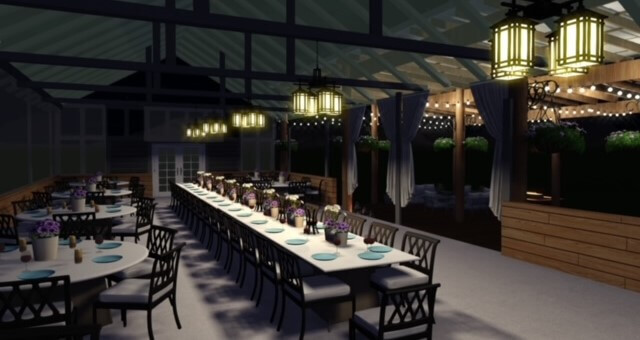 Any other necessary information prospective clients should know about CREATIVEscapes?
The first step to a great outdoor living project is a well-thought-out design.
A lot of people don't have the money to do a full backyard renovation all at once. But if you have a comprehensive master plan, you can bite off small sections at a time without worrying if all the elements work together. Nothing will look like an afterthought.
Some people have a hard time justifying paying for an outdoor living design, but I know you will not regret it if you go through the process. I have never had a customer not change at least one thing from what they initially pictured in their head.
Making your vision come to life is something we take seriously! Careful planning and visual renderings help Perkinson Homes and CREATIVEscapes perfect every project.
We're grateful to work with such amazing, creative people who have the same interests we do—making homeowners happy. It takes a village, but when your village is made up of dedicated professionals who want to knock it out of the park for their clients every time. . . you're going to do just that. Let's get started on your custom home-building journey.
CREATED BY
Regina Perkinson